Complete Life Center, Francesca Starr, Ph.D., LPC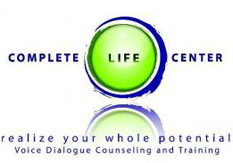 53 E Asbury Ave
Denver, CO
80210
USA
303-399-9001
Francesca@completelifecenter.com
www.completelifecenter.com
Francesca Starr originally founded the Voice Dialogue Training Institute in 2000, in Denver, Colorado. The Institute created and delivered innovative Voice Dialogue educational and training programs that taught the art and science of this empowering transformational, communication, and therapeutic body of work.

In 2005, the Institute evolved into The Complete Life Center, LLC. Minutes from Downtown Denver and the Rocky Mountains, the Center maintains its focus on the Voice Dialogue body of work, yet adds Francesca's contributions to the field from her over 30 years of studies and involvement in the human potential and consciousness movements, psychology, spirituality, business, and education.

The Center has session rooms, a beautiful workshop space, and a magical courtyard for meditation and meals. It is convenient to many restaurants and parks. Visitors from out of state often stay in a hotel close to Downtown Denver with its plethora of restaurants, art galleries, museums, and trails along the rivers.
Offerings
The Center offers individual and couples' counseling and coaching sessions (in-person, by phone, or by Skype); workshops on any number of life issues from the Voice Dialogue perspective; Level One and Two Voice Dialogue Trainings; corporate training programs; audio programs covering an array of topics; and free Tele-Classes.

At the Complete Life Center you understand and become who you are more completely, improve your relationships, experience a life of conscious choice, strengthen you leadership and communication skills, and find greater fulfillment and passion in all aspects of your life.

At the Complete Life Center you:
• explore and map your rich inner world,
• apply a more sophisticated awareness to your life experiences,
• understand the motivations and perceptions of yourself and others,
• resolve conflicts and problems at their very root,
• practice ways to experience greater self-mastery and choice in daily life,
• expand into the most complete and whole person you can be,
• discover how to achieve extreme well-being, and
• evolve your consciousness.

The Complete Life Process™ is Francesca's unique synthesis of Voice Dialogue and a variety of counseling, consciousness, and coaching modalities; with the addition of innovative new practices. The Complete Life Process elevates one's life skills and professional effectiveness beyond competence to mastery. The Process supports individuals and couples in their personal growth, provides niche building tools to practitioners of the healing arts and mental health professionals; teaches exercises useful to educators, mediators, and other professionals in businesses where working successfully with people requires great sensitivity and skill; and is very useful to organizations that want to function at higher levels. The Complete Life Process catalyzes rapid, substantial transformation that is sustained over time.


To learn about upcoming training programs and workshops at The Complete Life Center contact us at:
Phone: 303-399-9001
Email: Francesca@completelifecenter.com
Our Website is: www.completelifecenter.com


Online schedule available at www.completelifecenter.com